Valentines day is just around the corner and I think the thing, we women dread the most is getting a present for our husbands/ boyfriends, because some of them are so difficult to shop for or is really because is hard to shop for men in general…ha ha ha…  I have decided this year to do a list of 10 gifts you can give your significant other for Valentine's Day! All of the ideas can be changed to what is more convenient for you! I will go ahead and put the link to where you can get the gift. The best thing will be that non of the gifts will be more than $60.00 for those of us that need to stay within a budget. Enjoy!
Idea #1:
What I love about Us Journal: This journal is a very economic gift that you can get for your husband/boyfriend and it lets you get a little funny, sentimental or …. ha ha ha. This perfect size gift lets you fill-in-the-blank with private notes for him. Is the perfect size gift and you will be able to do a special Valentines surprise with it, without spending a lot of money. $10.00 
Idea #2: Smart Watch Wood Stand: This is the perfect gift for the hubs, it says elegance but at the same time simple. This smart watch wood stand is a docking station for
smartphones and can also hold smart watches on its arm. Also if you want to do something a little special, it can be personalized with any 3 letter monogram or 2 line message that is up to 20 characters long.  This would be a very special gift for him and he can also keep his keys, loose change on the bottom part.  $59.99
Idea #3: Yootech Wireless Charger: This gift is something that would be perfect to get a
more organized area in your house! The charger blends perfectly because of its black color and the best part is that it doesn't have any bright lights that would keep, him… (er, you) up all night! The charger is compatible with iPhone's  and with Galaxy Note. It also has different colors you could pick from, to please your boo! The best part about this gift is that right now it has a 62% discount! $14.99
Idea #4: Star Wars Cutting Board: Is your love a Star Wars Fan?? Well, this is the perfect gift for him! Not only he gets to enjoy his fave character Yoda, but now he doesn't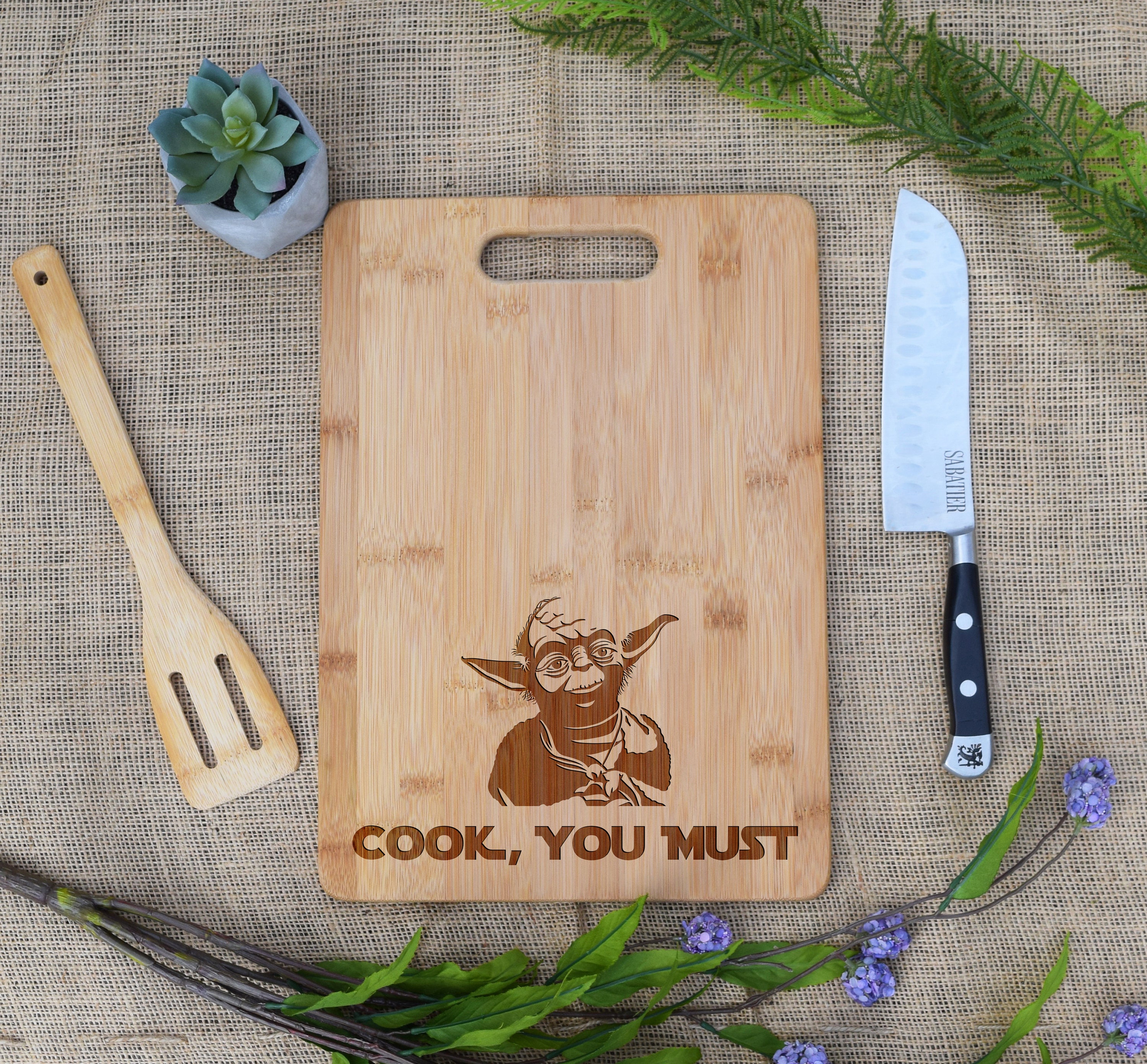 have a excuse to not cook for you! ha ha ha For this one you could also pick different messages instead of the one showing in the picture and if he is not a Star Wars fan but does love to cook, you could also get one personalized for him without the character. They have different sizes and you can pick if you would like it on Walnut or Bamboo color. $23.00
Idea #5: Wood Speaker Dock: This very cool gift is not only elegant and has a great look, the sound is great! It has a wood design on the top and then around a fabric that covers 
the 5 watt speaker. They can use it at home, their office but also on the go while exercising or at the beach. It fits most smartphones securely and has a playback at maximum volume of 3 hours. It also includes a micro USB to USB charging cable and 3.5 mm audio cable. The best thing about it, like most gifts, is that it can be personalized with a 12 character message or 3 letter monogram. $59.99 
Idea #6: Six-Pack Greeting Card: What guy doesn't like beer?!?! ha ha ha Well this is the perfect gift. This 6 pack can literally contain whatever you want, from beer to
personalized gifts to candy! Just make it your own and write a personal note for your one and only. The best thing about this gift is that you can make it your own and give it a personal touch by choosing his favorite beer or choosing a little something that he likes a lot 6 times. Of course we love things on sale and this is one of them! You will be saving 34% when you purchase it! $15.95
Idea #7: Personalized Guitar Pick: So, this one I felt related to, so I had to include it in
my list. This is for those guys that love music, or maybe are musicians. For this one you could keep the message "I couldn't have pick a better man" or you could personalized or pick another message you would like. There are different options too, with different designs like a guitar or music notes. Just pick the one that better fits the man in your life, but I would say this is a nice gift for them to remember you when they are doing what they love. $8.98
Idea #8: Backyard Bar Beverage Tub: This is one of them that he is sure to love! What
guy would't like to have a personalized beer tub?! This rust-proof metal tub can fit up to 24 standard-size beer bottles. You could also pick to get the tub by itself or get a stand with it. We love personalizing gifts and this is one of them, we can do a personalized messages with up to 16 characters and year. ("Backyard Bar & Grill and "Since" will always appear). This is definitely one of those gifts that not only will he enjoy, but he will definitely give it a lot of use. $34.99                                                           Shop Now                                                                                                                       
Idea #9: Tile Pro: If your love is always losing stuff and never seems to find his keys, phone or anything in general, this is the great gift for him. The Tile is able to sync to Siri,
Alexa, and Google Assistant to keep track of the stuff he loses a lot! It comes with a replaceable battery and it can track its device up to 300-feet away. You also have the chance to pick between black and white. The best and most crazy thing is that even if the phone is in silent it will make it ring so he can find it! $34.97
Idea #10: Smartphone Camera Lens Kit:  He likes to take pictures maybe the same amount like your or more??? Well, then this is the answer for you! This smartphone
camera attachment lens includes a macro and wide angle lens. Is compatible with single or dual-camera phones. It brings a glowclip rechargeable led light that can be clipped anywhere on your phone and instantly will illuminate your surroundings. Of course, we need to protect it too, so it brings a lanyard and travel case to protect your lens. This will be the best gift not just for him, but for you too, so he can take the best pictures of you!!! $39.99                                                                                                                
I hope this 10 ideas help you pick the right gift for your one and only! There is always more options, and really at the end the most important thing is the thought! Be creative and remember he loves you so whatever you get him, he will definitely like! If you have kids stay tune because I will be making a list of the best gifts to do for your kids for Valentine's Day!